On 2nd day of the three day Dharna of TUCI against the four new labour codes was successfully completed. Hundreds of  workers from many states took part today.
On Sunday sit-in started with paying homage to all the martyrs of TUCI and of the working class. Com. Sabyasachi from Odisha and Com. Sunil Pal, Secretary, TUCI, West Bengal State gave moving and detailed accounts of Com. Sivaram and Com. Sharmistha.
Today different leaders of various constituent unions of TUCI from all over the country spoke about their own problems and methods of struggle including leaders from Maharashtra, Kerala, West Bengal, Karnataka, Telangana, Odisha and leaders of federations like HUL federation, All India Painting Artists Federation and Shramik Ekta Mahasangh addressed the leaders gathered.
One encouraging step was that leaders of various central trade unions like Com. Vidya Sagar Giri, Secretary AITUC, Com. Rajiv Dimri, General Secretary, AICCTU, Com. Avijit, NTUI and other leaders like Com. Som Nath, Jan Sangharsh Manch, Harayana, Com. Narendra, ICTU, Com. Krishnakant, Lok Paksha also spoke.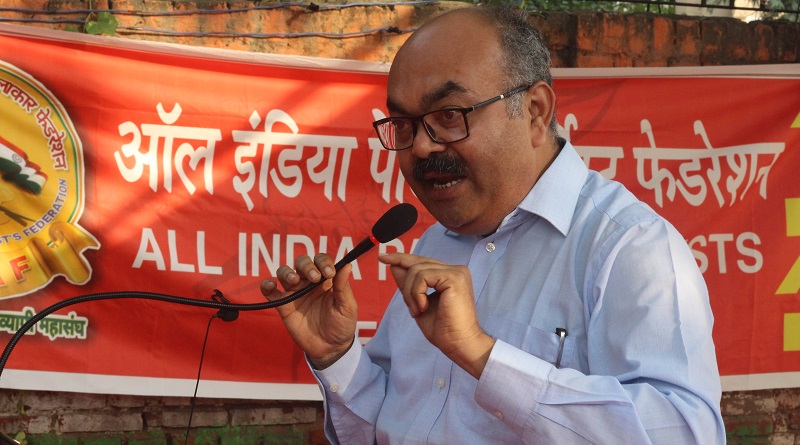 Most of the speakers exposed the growing fascism in the country and linked the four new labour codes to growing corporate loot of the countries workers and natural resources. It was pointed out that the new codes sought to roll back the rights and benefits that workers had won over a century of struggle.
The undemocratic method in which these codes were introduced, without consulting the working class was brought to light. All also agreed on the need for a joint struggle against these labour codes.
The hollowness of the concept of "Hindutva" was also exposed as being a mere tool to keep the workers and the toiling masses divided. Inspiration was sought to be drawn from the recent farmers struggle and slogans of worker – peasant unity rent the air.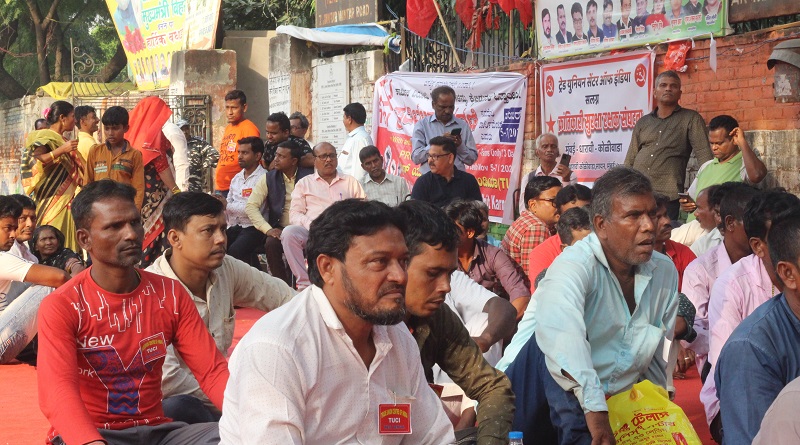 Amrish Patel have the valedictory speech. He was confident that the united strength of the workers would force the repeal of these labour codes.
He however stressed that this was not sufficient but the working class must fight alongside for positive demands like minimum wage of Rs. 27000 per month and against privatization including for nationalization of essential sectors like education and health.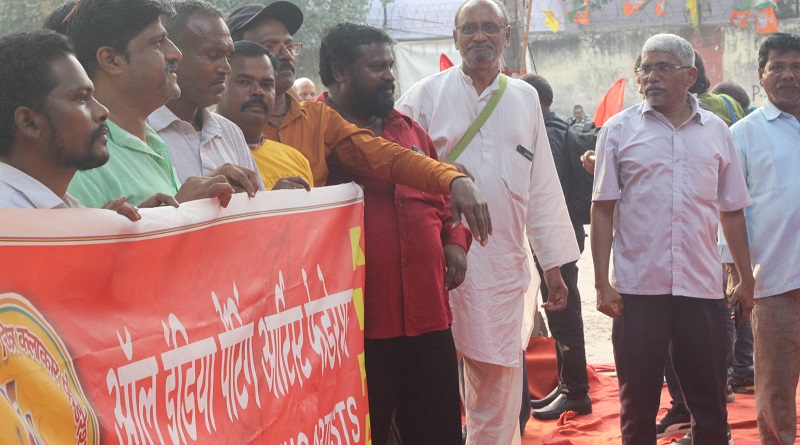 The day ended with vigorous shouting of slogans for workers unity and against the four new labour codes. The dharna will continue on Monday from 10:30 in the morning.
Subscribe to support Workers Unity – Click Here
(Workers can follow Unity's Facebook, Twitter and YouTube. Click here to subscribe to the Telegram channel. Download the app for easy and direct reading on mobile.)