Today TUCI completed the 3rd day of the dharna at Jantar Mantar in delhi. Many different speakers spoke including  Aparna, President, IFTU,  Gautam Mody, General Secretary, NTUI,  Amit, Mazdoor Sahayog Kendra, Siddhanth, IFTU (Sarwahara) and others.
union leaders from various states of TUCI, including, Maharashtra, Telangana, Chhattisgarh, Kerala, Odisha and Bengal also spoke. Com. Pradeep Singh Thakur, General Secretary, All India Krantikari Kisan Sangathan and. Com. Bhaskar Rao, General Secretary, Organisation for the Protection of. Democratic Rights also addressed the members. All agreed with the need to form a united organisation of workers to fight the new labour codes.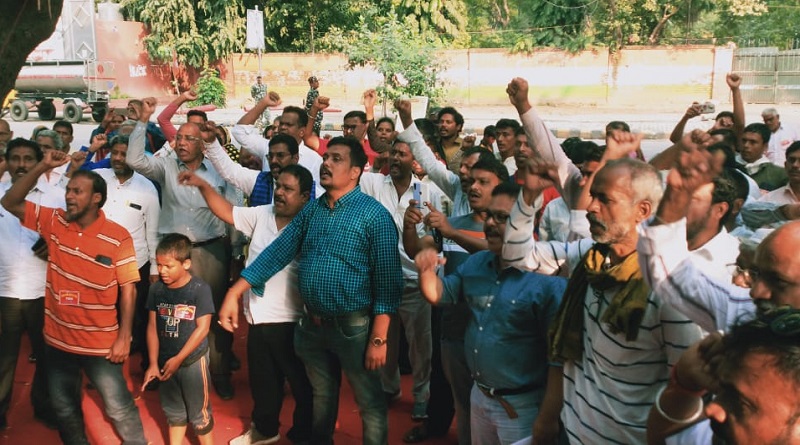 Sanjay Singhvi, General Secretary, TUCI gave the closing speech. He said that the TUCI would attempt to build a joint front of workers to fight the new labour code. To this end, similar dharma would be held in every state where all unions would be invited.
Talks would be held with all other unions to find the proper way to form such a united organisation. He promised that TUCI would also take part in the MASA morcha on 13th to the best of its ability. All the workers present stiff and took a solemn pledge to fight the new labour codes to the end.
The dharna ended with a declaration by Vice president Com. B. B. Pande and a sustained session of slogan shooting for workers unity and against the newlabour codes.
(Press release)
Subscribe to support Workers Unity – Click Here
(Workers can follow Unity's Facebook, Twitter and YouTube. Click here to subscribe to the Telegram channel. Download the app for easy and direct reading on mobile.)