By Workers Unity Team
On Sunday, November 13, more than 5000 workers from over 50 trade unions and other pro-worker organizations from all over India gathered in the Ramleela Maidan in Delhi and took out a march to protest against the four new labour codes and various other anti-worker policies and practices.
Student organizations like Pachas, Collective, PDSF, BSCEM (Punjab) also participated in solidarity with the workers. Termed the "Mazdoor Akrosh Rally", the day-long protest was organized in response to a call by Mazdoor Adhikar Sangharsh Abhiyan (MASA), a joint platform of 16 constituent organisations.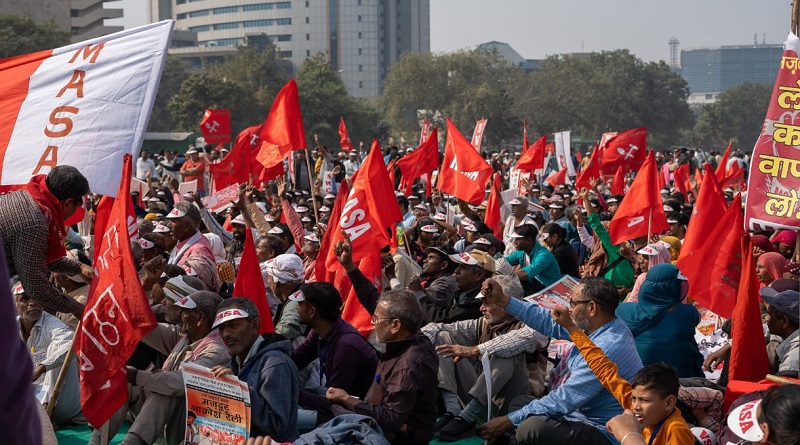 This ground report attempts to document the discontentment among the workers which prompted them to collaborate and carry out this massive day-long protest in the national capital.
In this report, we have documented various aspects of the "Mazdoor Akrosh Rally" such as what is the need for platforms like MASA, what were the various preparatory activities in the months and days that led to the event, what were the diverse demographical aspects of the participating workers, and what lies ahead in this ongoing workers' struggle.
This ground report emerges from our continuous engagement with MASA and their leaders over the weeks leading up to the rally on Sunday, and with our interactions with ordinary workers who participated in the events associated with the rally.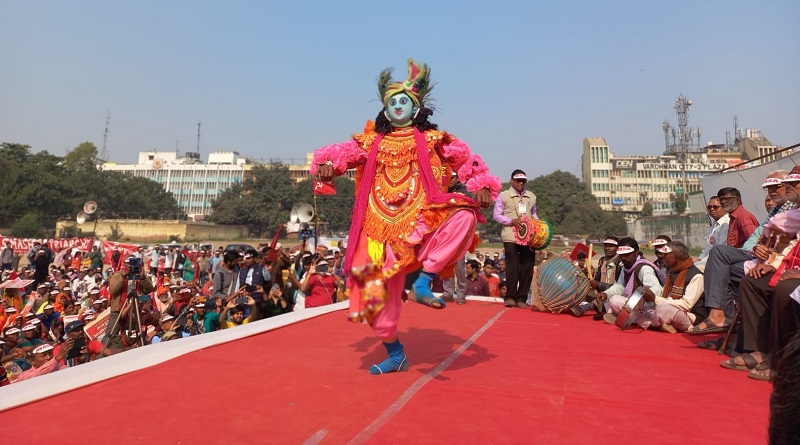 Events of November 13th
Sunday's program started with a huge gathering at 11 AM in Ramleela Maidan where members from various organizations collected to attend a cultural program and inspiring speeches from the leaders of several constituent organisations of MASA.
The workers came in large numbers with red flags, banners, and posters containing the collective demands of MASA, as well as the specific demands of the individual organizations. Several organisations set up stalls from which people could pick up progressive and revolutionary literature on workers' issues from around the country. Khalsa aid generously provided food and water that morning to all the protesters.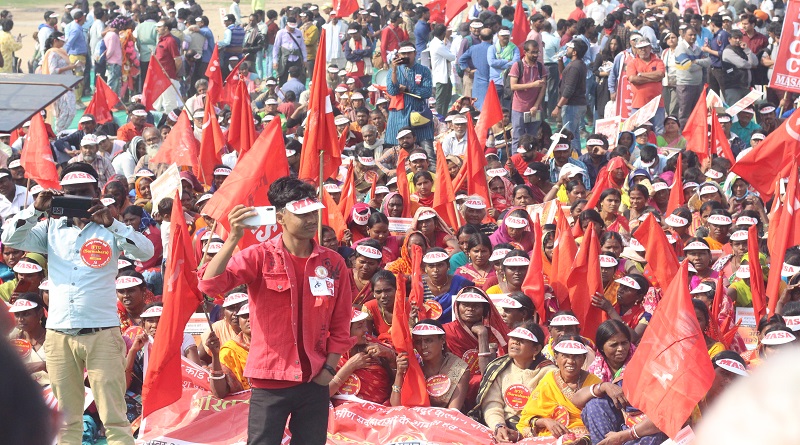 The stage program started with revolutionary songs by the members of Mazdoor Sahayog Samiti (MSS) and the New Democratic Labour Front (NDLF). Then there were speeches by representatives of various trade unions interspersed with cultural performances. The performances included revolutionary songs by a team from Inquilabi Mazdoor Kendra Punjab (IMKP), IFTU Telengana, and a Chau Nach (a folk dance tradition) by a team from Purulia, West Bengal of Struggling Workers Coordination Committee (SWCC) got huge applause from the workers present for the program.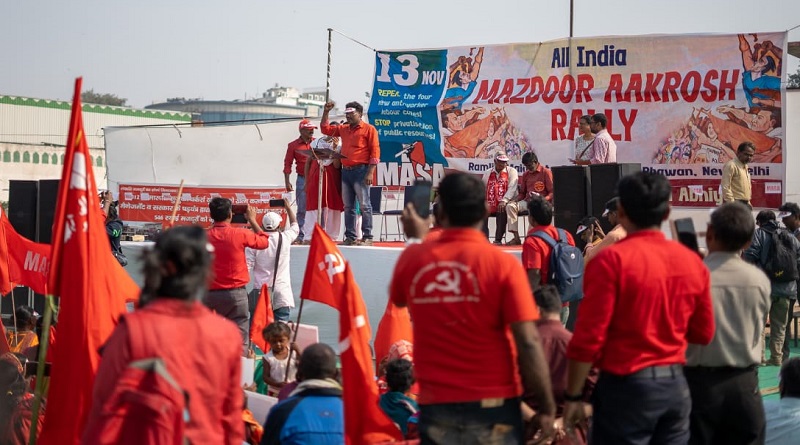 The speakers of the stage program included leaders from the 16 constituent organisations: Kanhai Baranwal from IFTU(S), Pal Singh from JSM (HR), S. Balan, Trade Union Federation (Karnataka), Bholashankar from GMU (Bihar), Amirtha from NDLF-SCC, Mukul from MSK, Surinder from IMK- Punjab, S.V. Rao from IFTU-Telengana, Khimanand from IMK, Soumendu from LJMU, Bikram from MSS, Rakesh from TUCI, OP Sinha from AIWC, Saravanan from NDLF-TN, and representatives from SWCC and ICTU. Other prominent participants in the program and the subsequent rally included members from NTUI, Maruti Mazdoor Maha Sangh, Bellsonica Employee Union, INTARCH Workers' Union Rudrapur, Mazdoor Adhikar Sangathan, Lok Ekta Sangathan, and Moulder and Steel Workers' Union Punjab, contract workers from Sunbeam and Hitachi in Haryana, Daikin Air Conditioner Workers' Union, Daido Mazdoor Union from Neemrana, Rajasthan, members from unions of Bhagwati Micromax, Nestle, Parle, Rocket Riddhi Siddhi, Kirolia Lighting, Voltas, unions from Hindi Motors, Kanoria Jute Mill, and Bauria Cotton Mills. The protest was also joined by workers from public sector enterprises including BHEL (Uttarakhand), BSNL (WB), Eastern Coalfields Limited (WB), and Singareni Collieries Company Limited (Telangana). Unions of rural workers and urban unorganized sectors such as Anganwadi Workers and Helpers Union (Haryana), MGNREGA and Sarva Kamgar Union (Himachal Pradesh), Chhattisgarh Mukti Morcha Mazdoor Karyakarta Samiti (Chhattisgarh), Rural Employees Union (Haryana) also participated in the protest march. Workers from MNREGA, sanitation, construction, and domestic work sectors, including scheme workers from Anganwadi and Mid-day meal schemes, IT-ITES workers, gig workers, and workers in loading-unloading and private transport, from different states lent immense strength to the march. Tea Plantation workers from Jakai, Nahorkotia, Gotonga, Naginijan, Jaipur, Samuguri, Hautley, Furkating, and Missamara Tea Estates in Assam and Margaret's Hope, Dhotrey, Baghrakote, Phulbari, and Peshok Tea Gardens from Darjeeling joined the rally in significant numbers.
The program at the stage culminated into a protest march, the "Mazdoor Akrosh Rally" headed towards the Rashtrapati Bhawan with sloganeering, flags, banners, and posters. The police initially wanted to stop the march at the gate of the Ramleela Maidan itself, but the enthusiasm from the leadership and the mass support from the workers behind them allowed for the rally to eventually take place after some struggle.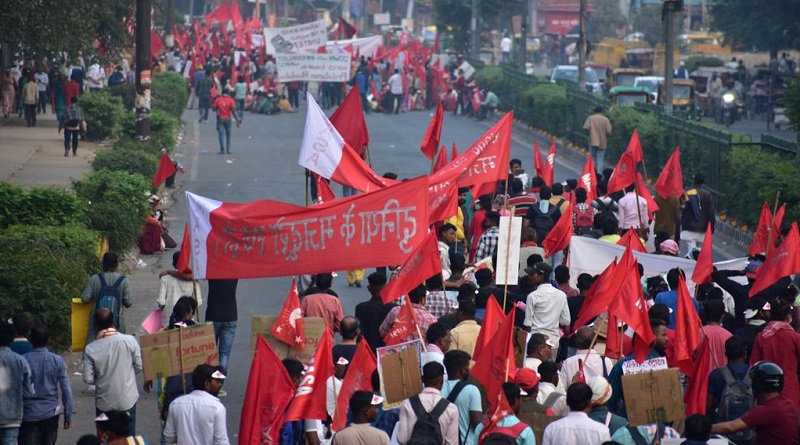 Eventually, the march was stopped on the way to Rashtrapati Bhawan, where the workers sat down and occupied the road in protest. After much negotiation, a five-member representation was allowed to go to the Rashtrapati Bhawan to give their memorandum to the President's office. The MASA leadership said that this rally was not just an expression of "akrosh" or anger by the workers against the anti-worker laws and policies, but it was a warning by the workers to the government that if their demands are not addressed soon, next time they are not going to stop from marching up to the Rashtrapati Bhawan.
Preparation phase and various solidarity events:
Though the program of Sunday, November 13 was only a one-day event, preparations for it started several months ago. Campaigning for the program began several months in advance in different parts of the country, which included small meetings, street plays, and circulation of posters and pamphlets raising awareness about the new labour codes and other anti-worker policies.
Regional conferences were organised months of September and October in Kolkata (Eastern region), Hyderabad (Southern region), and Delhi (Northern region) to bring together people for Sunday's "Mazdoor Akrosh Rally" in Delhi.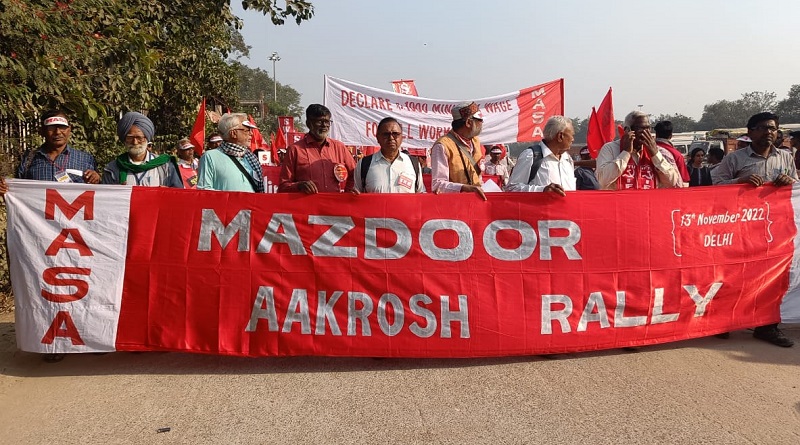 Uncountable smaller cultural and political events were organised in all corners of the country and were instrumental in making the rally a success. An event was organised on 9th November by MASA at the Gandhi Peace Foundation, Delhi to mobilise civil society members from Delhi to join the rally.
Independent student events were organised during the days leading up to Sunday's march, such as Advocate Colin Gonsalves's talk at JNU and Satish Deshpande's talk at Delhi University where the new labour codes were discussed at length with students.
On the days leading up to November 13th Mazdoor Akrosh Rally, the MASA team had to face numerous obstacles, particularly on the front of arranging accommodations and managing logistics of hosting over 5000 protesting workers in the heart of Delhi.
They also had to face resistance from the administration, and numerous restrictions were imposed on the rally participants and the leaders who led the event. One example of this is the restrictions on the number of persons who can sit on the stage, which was limited to 6 by the Delhi Police.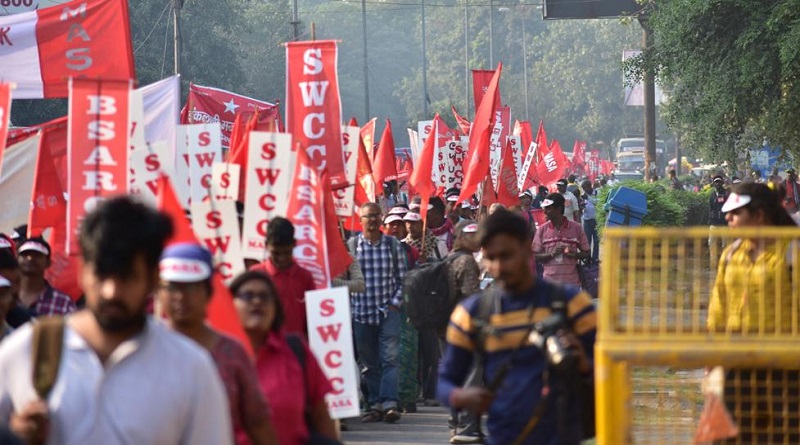 While the "Mazdoor Akrosh Rally" was a one-day event, it had a unifying effect across the country. It created a favourable environment for protest against new anti-worker labour codes and for raising several other crucial demands of workers such as raise in minimum wages and abolishment of contractual work, giving an opportunity to its constituent organisations and other workers' organisations to host their own protests and meetings before and after 13th November.
For instance, TUCI organised a 3-days protest at Jantar Mantar between the 5th – 7th November raising similar demands of repealing the labour codes and implementing pro-worker laws and policies. Similarly, in the aftermath of Sunday's rally, Chai Bagan Sangram Samity and Chai Shramik Mukti Sangram Samity hosted a convention at Delhi's Gandhi Peace Foundation to raise demands of minimum wage and land rights for lakhs of Tea Workers of Darjeeling hills, Terai-Dooars and Assam.
Moreover, in solidarity with the "Mazdoor Akrosh Rally" in Delhi, several organisations and workers who could not travel to Delhi and join in the march at Ramleela Maidan, hosted their own regional protest events in different parts of the country.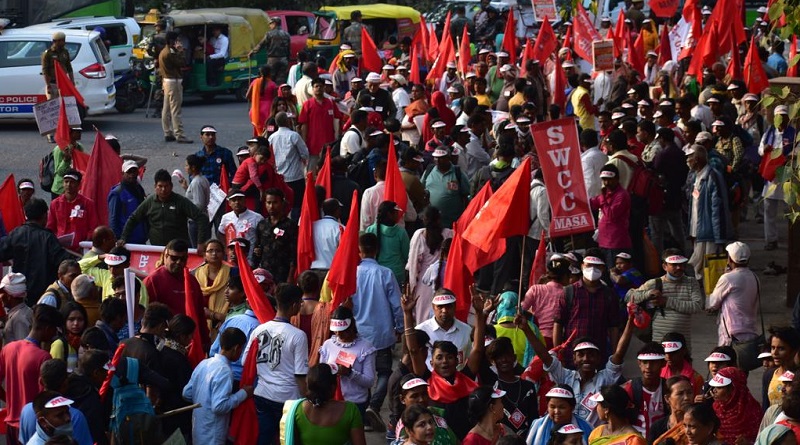 About the organising platform: Mazdoor Adhikar Sangharsh Abhiyan (MASA)
MASA was started as an alternate joint platform for struggling trade unions in 2017, as many trade unions were highly dissatisfied with the way the major central trade unions were operating.
Presently, at a time when the assault by the ruling establishment on the rights and the livelihoods of the working class is at its peak, and forces of communalism and caste barriers are trying to break the unity among the working class, the leaders of MASA felt an urgent need for national level co-ordination among the working people's organizations which can take forward the issues of workers in a principled and uncompromised manner.
Currently, there are 16 constituent organizations in MASA, which include: All India Workers Council, Grameen Mazdoor Union (Bihar), Indian Council of Trade Unions (ICTU), Indian Federation of Trade Unions (IFTU), IFTU (Sarwahara), Inqlabi Mazdoor Kendra, Inqlabi Mazdoor Kendra Punjab, Jan Sangharsh Manch Haryana, Karnataka Shramika Shakthi, Lal Jhanda Mazdoor Union (Samanvay Samiti), Mazdoor Sahayata Samiti, Mazdoor Sahyog Kendra, New Democratic Labour Front – State Coordination Committee (NDLF SCC Tamilnadu), Socialist Workers Centre (Tamilnadu), Struggling Workers Coordination Centre (SWCC, West Bengal), Trade Union Centre of India (TUCI).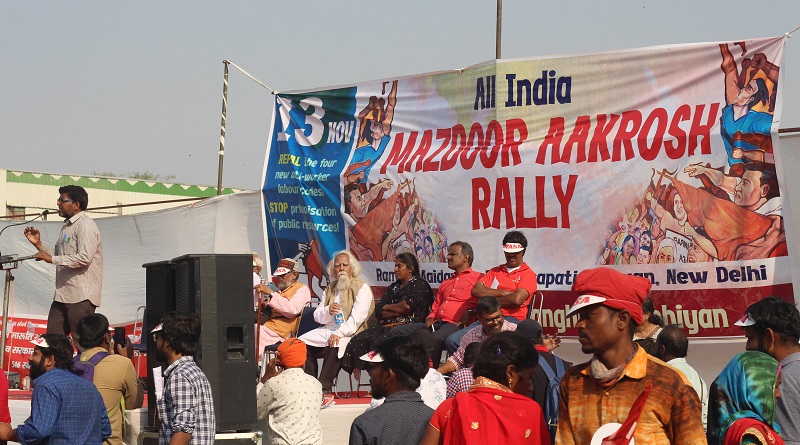 Many other organizations although not yet formally part of MASA, strongly support its cause. These organizations, which have been mentioned above, were also present for the "Mazdoor Akrosh Rally" on November 13th. The leaders of MASA expect that the number of constituent organizations will increase in the coming days, as the various inter-organization level talks are going on to expand the platform.
Key Demands

:
"Mazdoor Akrosh Rally" as the name suggests, was an expression and outburst of the anger of the workers towards the government, for the recent enactment of four labour codes which will snatch from the workers the even remaining bargaining power, and make their already miserable working and living conditions even worse.
The key general demands of the November 13 program are as follows:
1. Immediately repeal the 4 Anti-worker Labour Codes. Reform labour laws in the interest of workers.
2. Stop all means of privatisation of PSUs and sectors like Banking, Insurance, Coal, Gas-Oil, Transport, Defence, Education, Healthcare etc.
3. Ensure unconditional fundamental and democratic right to unionize, strike, and organize protest. Declare layoffs, closure, and retrenchment illegal.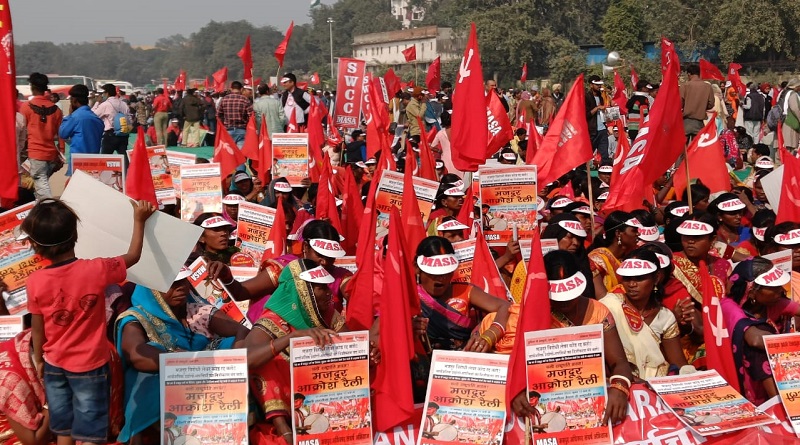 4. Abolish contract system, NEEM trainee scheme, and all forms of fixed-term employment – Guarantee permanent jobs till 60 years of age along with pension, maternity leaves, and all other social security provisions and occupational safety norms. Recognise Gig-platform workers, scheme workers (Asha, Anganwadi, Mid-day Meal etc.), IT-ITES workers, domestic workers as 'workman' to ensure all rights.
5. Declare Rs. 1000 daily minimum wage, (Rs. 26, 000/month) for all workers across the country. Provide Rs. 15,000/month as a subsistence allowance to all unemployed. Ensure job security for the entire year for all rural workers.
6. Ensure universal PDS and pucca housing-water-healthcare-school-crèche for all workers, including migrant and rural workers.
Apart from these central demands, the workers of the individual sectors raised sector-specific demands in their posters during the demonstration. For example, Bastibasi Sramajibi Adhikar Rakkha Committee (BSARC), which is a part of SWCC had raised demands specific to the slum living conditions, and workers from the Chaibagan Majdoor Samiti raised demands specific to the tea-plantation workers in Darjeeling.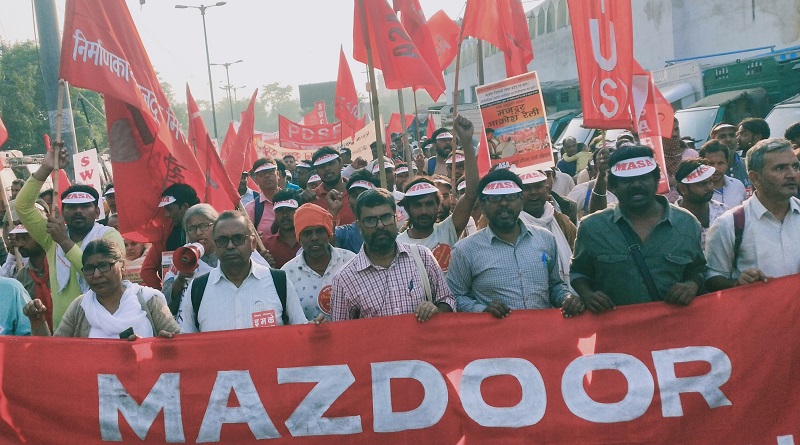 Diversity in the "Mazdoor Akrosh Rally"
The geographical, demographical, and occupational diversity of the workers present in the Sunday program was huge. Participants included construction workers, agricultural workers, domestic workers, workers from automobile and other manufacturing sectors, etc. Along with workers of Delhi-NCR workers from all over India, from northern states like Uttar Pradesh, Haryana, Punjab, Bihar, Uttarakhand, Rajasthan, Maharashtra, Assam, and Gujarat, to states from central and southern India like Chhattisgarh, Karnataka, Tamil Nadu, Telangana, Kerala, and Andhra Pradesh participated in strong numbers.
Equal participation of rural and urban workers was witnessed in the rally, along with the huge participation of women workers in the program. Women workers and organisations included domestic workers, bidi workers, agricultural workers, and urban slum-dwellers. A detailed report dedicated to the concerns and demands of various women workers has been published by Workers Unity.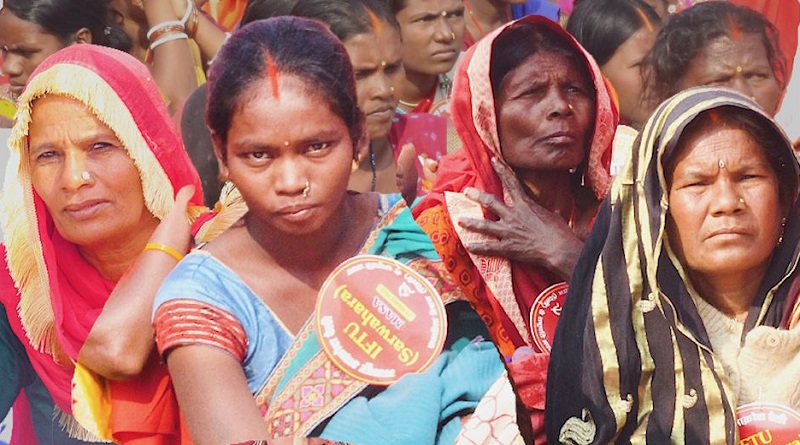 Assertion of uncompromising class politics
MASA claims to be a departure from all other larger central trade unions in the country. Therefore, a notable feature of the program was the speakers' strong assertion of uncompromised working-class politics and the desire to elevate the working-class movement from specific economic demands to one with a decisive political class struggle aimed at changing the current system as a whole.
Issues like the compromising politics of larger central trade unions were also a recurring theme in many of the speeches. Although the rally and the leaders stressed achieving the immediate demands, there was a clear emphasis on the systematic change needed in workers' politics.
Kanhai Baranwal from IFTU Sarwahara said, "Satta paribartan ka daur khatam hua, ab vyavastha paribartan ka daur hai" (times to change just the government alone is over, now it's time to change the system as a whole). He emphasized that the long-term goal of the movement must be to overthrow the exploitative system itself because without that workers' conditions cannot be changed.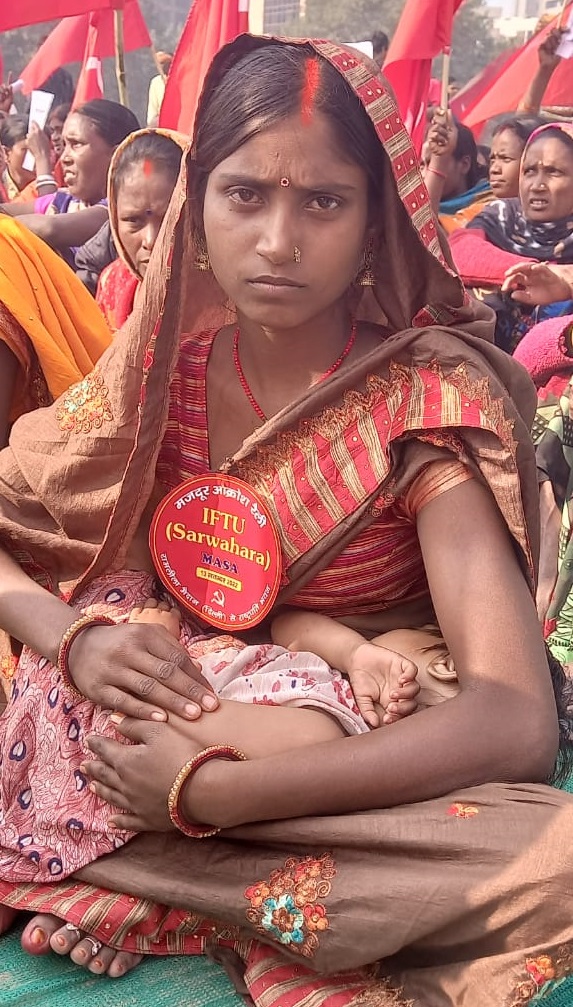 He also reminded us of the united strength of the working class and that there is only one caste or religion for workers which is their class identity. Perhaps the most articulate criticism about the compromising politics of central trade unions came from Bholashankar of GMU (Bihar). 
He said that the central trade unions do a 1-day ritualistic all-India strike between February and April, in which crores of workers put efforts to make them successful, but all of these go to waste as unions later compromise with the establishment.
He also reminded that MASA started campaigning against the Labour Code even before it was proposed in the parliament. Pal Singh of Jan Sangrash Manch (Haryana) told why MASA is an alternate platform for struggling workers' organizations and why it is a breakaway from the central trade unions' politics. He told that end of all oppression can only be achieved through the overthrow of the current system.
Amirtha from NDLF-SEC started and ended with Laal Salam. She reminded of the glorious history of working-class politics in Tamil Nadu and how South Asia's first labour union was formed in Tamil Nadu.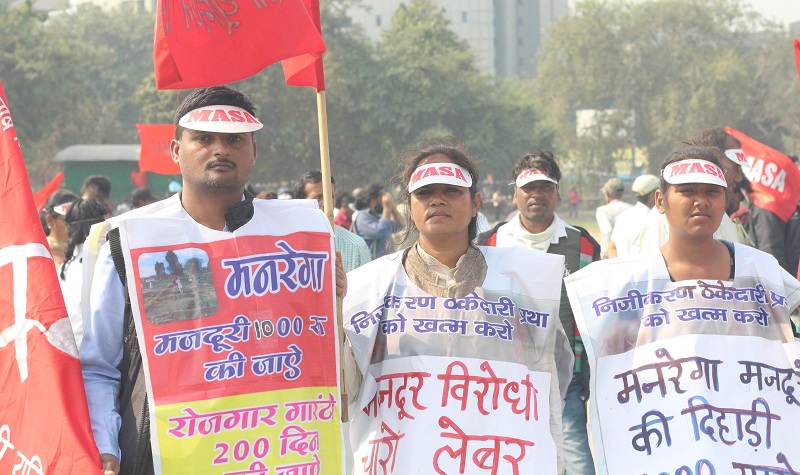 She shared their experiences of organizing primarily in the automobile industry and said that the main lesson to learn is to raise class consciousness and organize not only in the workplace but also in the living spaces of the workers.
Mukul from the Mazdoor Sahayog Kendra (MSS) reminded the strength of the united working class and emphasized the final goal of the workers' revolution, alongside the immediate demands of repealing the labour codes. Lokanatham from NDLF-TP raised issues regarding caste, communalism, and nationality-based oppressions in the united working-class movement.
Looking toward the future of the workers' movement
According to the organizers and leaders, although the November 13 protest and rally was a massive leap forward for the working class movement in India, the program had several limitations, and MASA has serious challenges to overcome.
The leaders at MASA agree that although their politics is uncompromising, currently the scale and capacity of the workers' movement are severely limited when compared to the farmers' movement.
In the future, MASA's goal is to be able to scale up and grow as a larger force, with the aim of becoming an all-India working class struggle.
Subscribe to support Workers Unity – Click Here
(Workers can follow Unity's Facebook, Twitter and YouTube. Click here to subscribe to the Telegram channel. Download the app for easy and direct reading on mobile.)